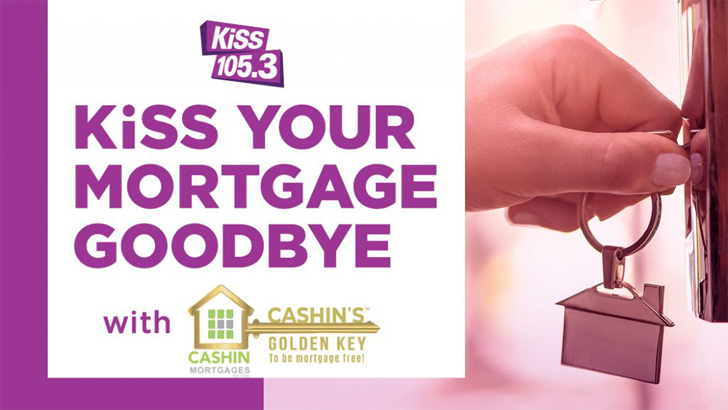 ---
Cashin Mortgages Golden Key To Be Mortgage Free
What an amazing feeling it would be to win $250,000 to help you KiSS your mortgage goodbye would be! We can make it happen with the Cashin Mortgages Golden Key to be Mortgage Free!
Step 1: Complete the entry form below
Step 2: Be ready to play with your 5 digit code to "unlock" the front door.
Step 3: Get ready to answer the phone at 8:20am weekdays from June 1-30! If you get a call from Cory and Jamie, YOU'LL have a chance to INSTANTLY win $250,000 with Cashin Mortgages Golden Key To Be Mortgage Free!
Step 4: Make sure you listen every weekday at 8:35am to keep track of what the other guesses have been!
BONUS: Wednesday, June 30th is WINNING WEDNESDAY! Cory and Jamie will be calling 3 EXTRA people with bonus chances to play between 6am and 8:30am. Make sure you answer your phone if you get that golden call!
Everyone who enters this draw will also automatically have a chance of winning a $500 cash prize on Wednesday, June 30th. As an added bonus, everyone who plays the game with Cory & Jamie will automatically receive a $25 McDonalds gift card!
The more you enter, the more chances you have to play and win!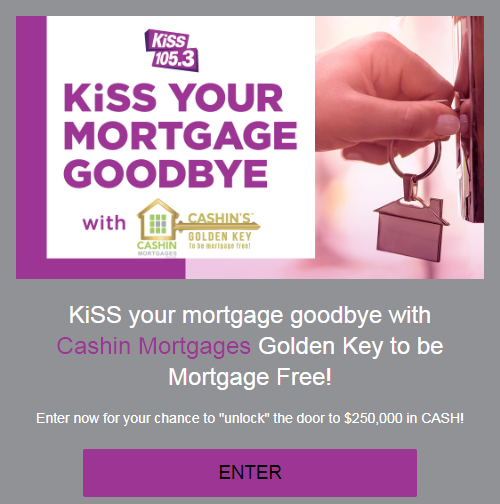 No purchase necessary. You can also mail your entry, (inclusive of your name, phone number and the contest you want to enter), to 880 Lasalle Boulevard, Sudbury, ON P3A 1X5.
Contest closes on June 29, 2021 at 11:59 pm ET. Grand Prize consists of $100,000 cash. Odds of winning the Grand Prize are 1:100,000. One Secondary Prize is available to be won, consisting of $500 cash, payable to the winner by cheque. The are up to 25 x $25 McDonald's gift cards available to be won. Residents of North Bay may not participate in this contest. You may enter the online contest once per day during the Entry Period. Must correctly answer a mathematical skill-testing question to win. See the Official Contest Rules & Regulations for all details.
Kiss Your Mortgage goodbye Ad 1