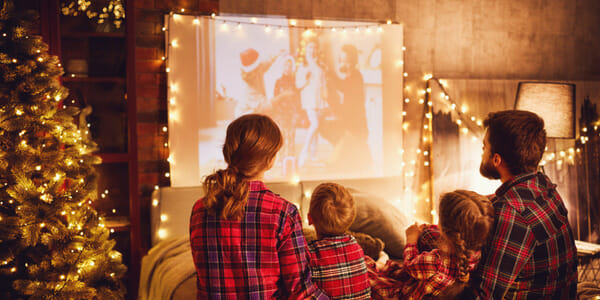 Christmas is not complete without a nice Christmas movie. You most likely watch the same movies year after year without even realizing it. If you're searching for something different, we've chosen movies from each decade for you to choose from. Remember that in the world of film, newer does not always equal better.
The right film is key, but the ambiance is equally essential for an enjoyable experience. Turn on the Christmas tree lights and sink into the couch. A nice glass with plenty of snacks nearby. Put away your phone and enjoy your favorite Christmas movie!
2020s
The Christmas Chronicles (2020) A fun adventure film for everyone who loves Christmas. The amazing decorations and amusing special effects complement the intriguing adventure story about saving Christmas.
Happiest Season (2020) Abby and Harper are returning home for the holidays to Harper's family house, and Abby plans to propose until she finds Harper hasn't been honest with her family about their relationship.
2010s
Klaus (2019) The animation in this movie is very unique as is the story. Here a spoilt postman is tasked with saving Christmas.
Let It Snow (2019) In this film, which is based on John Green's best-selling novel, a group of high school kids navigate love and friendship after a snowfall hits their small town on Christmas Eve.
Holiday Rush (2019) After being fired from his job just before Christmas, a widowed radio DJ has to move in with his aunt. This is where he and his four children learn the true meaning of the season by adjusting to a new lifestyle.
Dr. Seuss' The Grinch (2018) Because of Benedict Cumberbatch's iconic performance as the Grinch, this animated movie is one of the best.
Office Christmas party (2016) This film gives a fantastic evening of amusement with its bold humour and exciting scenes. The film stars Jason Bateman and Jennifer Aniston.
2000s
A Christmas Carol (2009) It's a dark fantasy 3D computer-animated movie based on Charles Dickens' 1843 novel of the same name. 
Lost Christmas (2009) The music of Wham and George Michael is key in the Christmas film Last Christmas. This film has a wonderful story in addition to some really good Christmas music.
The Polar Express (2004) The Polar Express is an absolute must-see film. It is a modern Christmas classic that uses spectacular new animation techniques to produce a nostalgic and enchanting Christmas ambiance. The film is about a train, as the title suggests. Not just one, though.
Love Actually (2003) Do you prefer to watch romantic movies and comedies? Then you should see Love Actually. Love Actually is a romantic comedy directed by the same person who directed Notting Hill and Bridget Jones' Diary. So it's no surprise that this picture features an incredible cast: Liam Neeson, Hugh Grant, Rowan Atkinson, Bill Nighy, and Keira Knightley.
Elf (2003) This film is about a human reared by Santa's elves at the North Pole. It has swiftly become a holiday classic.
How the Grinch Stole Christmas (2000) Dr. Seuss' renowned children's story is brought to life in this live-action adaptation.
1990s
The Nightmare Before Christmas (1994) "The Nightmare Before Christmas" is a stop-motion fantasy musical that is frequently screened around Halloween but is primarily a Christmas film.
The Santa Clause (1994) "The Santa Clause" is intended to entertain, and audiences appreciated it for that reason.
Sleepless in Seattle (1993) Tom Hanks co-stars with Meg Ryan in this romantic comedy.
Home Alone 2: Lost in New York (1992) Kevin McCallister's family abandons him once again in Home Alone 2 and this time he ends himself in New York City.
All I Want For Christmas (1991) Two children try to reconnect with their divorced parents in this Christmas movie.
Home Alone (1990) We'll never get tired of watching 8-year-old Kevin McCallister prevent the Wet Bandits' home robbery plot.
1980s
National Lampoon's Christmas Vacation (1989) Do you fear having your in-laws come to your house for the holidays? After watching this movie, anything your family does at Christmas will look quite normal compared.
Die Hard (1988) "Die Hard" does not ring like a Christmas movie, does it? As strange as it may sound, it is a classic example of a Christmas action film.
Ernest Saves Christmas (1988) – Santa Claus is looking for a successor, and the odd but charming Earnest is ready to help.
A Christmas Story (1983) The classic gave us the notorious leg lamp and Red Ryder BB guns, and it taught us never to lick a frozen pole.
1970s
Santa Claus is Comin' to Town, 1970 Without a question, this is one of the better explanations of Santa's roots because it goes through the processes and the idea of how he came to be and how his legend grew over time.
1960s
Dr.Seuss' How the Grinch Stole Christmas! (1966) A curmudgeon tries to put an end to the festivities.
1950s
All that Heaven Allows, 1955 This is the perfect Christmas film, complete with all the decorations.
White Christmas, 1954 In this timeless classic dreams are not deceit.
Scrooge, 1951 This family film is based on Charles Dickens's novel Christmas Carol, capturing the authentic Christmas spirit. There have been far too many film adaptations of the book, but this is often regarded as the best.
1940s
The Bishop's wife, 1947 Cary Grant plays an angel in this film, which inspired Denzel Washington and Whitney Houston's version of The Preacher's Wife in the 1990s.
A Miracle on 34th Street, 1947 In this enchanting holiday classic, Kris Kringle goes on trial to establish his identity, and he'll have you believing in the magic of Santa Claus.
It's a wonderful life, 1946 Frank Capra's legendary film isn't simply one of the best Christmas movies of all time; it's also one of the best films ever made.
Holiday Inn, 1942 The film featured the Oscar-winning holiday song "White Christmas," which was made famous by Bing Crosby.
Remember the Night (1940) Barbara Stanwyck's character is caught for shoplifting just before Christmas, it's up to the D.A. to help her get out of jail.
1930s
The Shop Around the Corner, 1939 It is regarded as one of the greatest film romances of all time. It is not a Christmas film in the traditional sense, but it does capture the excitement of the holiday season.
What movie will you be watching this holiday season?
Source: goldderby.com, rottentomatoes.com, goodhousekeep.com